You Can Help a Family Today
Thank you for considering NICU Helping Hands in your charitable giving and for making a difference in the lives of families experiencing a NICU hospitalization. NICU Helping Hands welcomes financial contributions as we work to expand support services and education offered to families experiencing an antepartum or NICU hospitalization, or in the event of an infant loss. All services are offered to families free of charge and are made possible by generous donors like yourself. We are a non profit, approved 501(c)3 organization based in North Texas.
We will be happy to provide a tax acknowledgment for your use.
Monetary donations can be made online with a credit card.
Other Ways to Give to NICU Helping Hands
There are multiple ways to give your time, talent and treasure to NICU babies and their families. To volunteer with NICU Helping Hands, please fill out our Contact Form.
Donate by mail: If you would like to donate with a check please email 

[email protected]

for our mailing address and more information.
Make a purchase from one of our Amazon Wish Lists
Request a matching gift from your company
Host a third party fundraiser
Sponsor a NICU Helping Hands' event
Make a planned gift
Last year, NICU Helping Hands spent more than $35,000 sending gowns to homes and hospitals. We need your help – but not with wedding dresses right now. With our wedding gown donation cycle temporarily closed due to the outpouring of support from our last donation drive, our focus is on getting our gowns into the hands of those that need them. As our efforts continue to ensure families across the nation have the proper support and resources, our shipping costs are rising due to demand. Even the smallest amount helps tremendously.
Our efforts, no matter how small, can make a lasting difference…
Community Programs
Did you know you can support NICU Helping Hands just by shopping at certain stores online and in your community?
Kroger  – to get started, sign up with your Plus Card HERE, and sign into Kroger Community Rewards. Simple type "NICU Helping Hands" or our NEW account number "KA225" into the search bar at the top (or simply scroll through organization names until you find us). Once you're enrolled, you'll earn rewards for your chosen organization every time you shop and use your Plus Card. It's all that simple!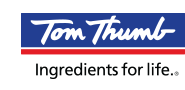 Tom Thumb – customers save money, and enter contests while supporting NICU Helping Hands. At Tom Thumb, your Good Neighbor Program account number is linked to your Reward Card so NICU Helping Hands will accumulate funds quickly and easily. You can link NICU Helping Hands to your Rewards card by completing a Good Neighbor Charity Addition Form at any Courtesy Booth.
iGive.com – After using an iGive link to the store's website, you shop as you normally would. There are no extra steps, no iGive notifications when making payments.  The donations happen behind the scenes, and you help raise funds for NICU Helping Hands. It's that easy!
The surest way to get a donation from Amazon purchases is to use the Amazon link in your iGive Button drop-down, or link to the store directly from the iGive site, www.iGive.com/Amazon.